Final Girl Cosmetics presents the Iskanov Dreamscape Collection!
Final Girl Cosmetics is delighted to partner with Russian filmmaker Andrey Iskanov, director of Nails, Visions of Suffering, Philosophy of a Knife, and forthcoming films Breaking Uruboros Ingression, and G-Spot.
Although Andrey is known for terrifying and surreal films with extreme violence and gore, he also has a love of retro fashions and glamour, and scenes of enchantment and magic. In his personal life, Andrey is strongly opposed to war and all forms of racism and nationalism, and is an advocate of animal rights. He has personally rescued and cared for dozens of cats.
The Iskanov Dreamscape Collection pays tribute to Andrey's films as well as his love of glamour, occult themes, and cats. The collection includes the 24-color Visions of Suffering Eyeshadow Palette, Mr Tiger blush, Retro Necro lipgloss, and Black Mother Lipgloss. All profits from sales of the Iskanov Dreamscape Collection will help Andrey with his medical expenses and his film projects.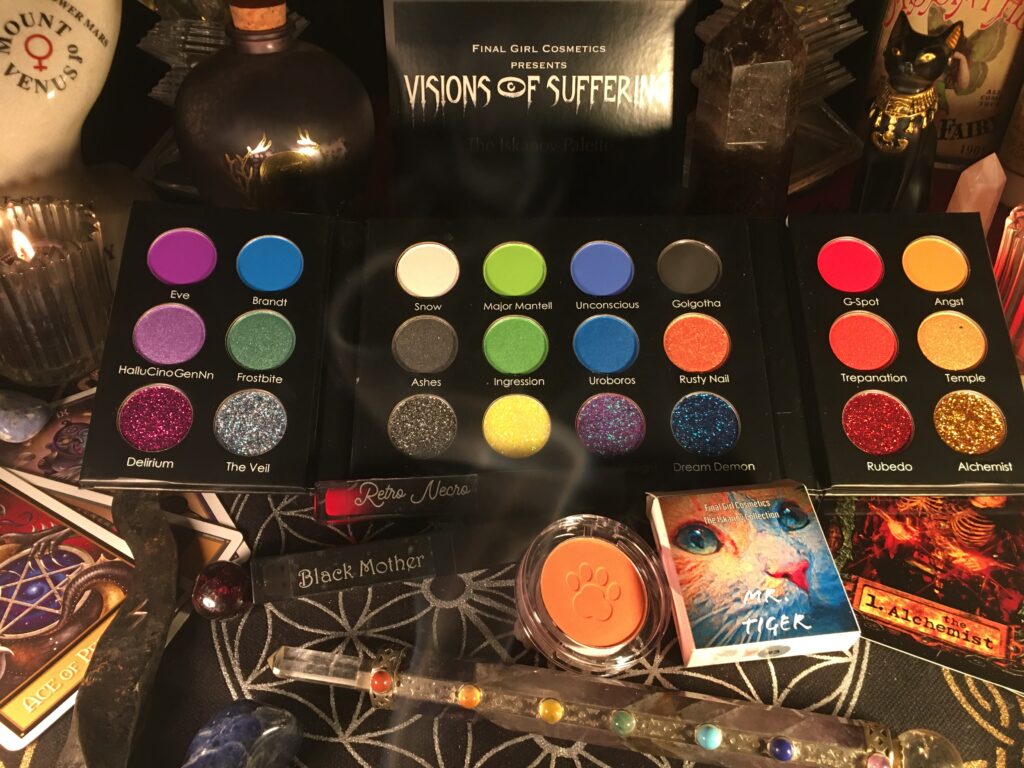 Product description
Visions of Suffering 24-color eyeshadow palette (right to left)
Top row:
Eve: A matte purple as sultry as your favorite singer's voice
Brandt: A matte denim blue suitable for avenging your lost love
Snow: Let this matte white remind you of the purity of nature in contrast to the depravity of mankind
Major Mantell: Be prepared for any mission with this matte green eyeshadow
Unconscious: A matte periwinkle that creates a sense of perfect tranquility
Golgotha: A matte black as dark as the heart of a demoness born from the suffering of crucified criminals
G-Spot: A matte red suitable for living out your most forbidden fantasies, or for looking your best while standing on the auction block
Angst: This matte mustard yellow creates quite a voluptuous feeling for those times between sleep and wakefulness
Second row:
HalluCinoGenNn: A shimmery violet for your psychedelic journeys to the otherworld
Frostbite: Pale shimmery green perfect for nude sunbathing in the Russian Far East
Ashes: a dark grey shimmer as grim as history itself
Ingression: Once your blood and your eyelids turn a shimmery green, it's already too late
Uroboros: a bold shimmery blue to distract you from the suffering of your endless cycle of birth, death, and rebirth
Rusty nail: The key to your enlightenment may be as simple as this shimmery bronze shadow.
Trepanation: A shimmery golden red that won't give you a headache
Temple: So you joined a sex magick cult. Look your best for their perverse rituals with this shimmery gold eyeshadow
Third row:
Delirium: This purple glitter will be perfect for hiding your black eyes after a night out at the club
The Veil: We see the true nature of things dimly, as if through a pale silver-blue glitter eyeshadow darkly
Scalpel: Look sharp with this dark silver glitter
Creature: Contemplate the fact that humans are the real monsters with this iridescent neon yellow-green glitter.
Eternal twilight: This iridescent lavender-blue-green glitter is so mesmerizing, it may be a gateway to another world
Dream Demon: A bold blue glitter to haunt your darkest nightmares…and those times of dreamless sleep that are a little too much like death
Rubedo: Like entering a forbidden dimension, this red glitter is so alluring that you may never return
Alchemist: Transform the base materials of your humanity into something sublime with this gold glitter
Lipglosses:
Black Mother: You will look out of this world with this black gloss lipstick
Retro Necro: This red gloss will create a classic look right out of a glamour magazine
Blush
Mr Tiger: a bright bronze blush to remind you that, even though the world is cruel place, at least there's cats